HOMES FOR SALE | CONTACT ME | HOW MUCH IS YOUR HOME WORTH? | FOR SENIORS | FEATURED SALES

TERRY ANDERSON
Real Estate Broker Associate
SRES, ABR, CPRES


2630 Valor Drive
Glenview, IL 60026



847-510-5015


ABOUT TERRY


Terry has a burning passion for the real estate business. After she purchased her first property when she was 21 years old, she talked and walked real estate every week with her family, friends, neighbors, business associates and practically anyone who would listen. Terry has lived in the North Shore and Northwest suburbs all of her life.

With her extensive business background for over 20 years working in Glenview and the North Shore as a business owner Terry Anderson has the right personal history to understand what clients want and need. Terry is a loyal trustworthy dedicated and knowledgeable full - time Realtor® who will listen, analyze your needs, and strategize for you. Her strong business and managerial background, thorough understanding of market conditions, and current real estate prices make her an invaluable asset to clients. Specializing in the North Shore and Northwest suburbs of Chicago, single family, and new construction, Terry will apply her knowledge of the area and her attention to detail while she negotiates in your best interest taking you all the way to the closing table and beyond.

Prior to embarking on a full-time career as a Realtor®, she worked for major corporations as well as previously holding position as Director of Human Resources and Training for Hilton Hotels, where relocations were part of her responsibilities.

Terry is an active member of the North Shore Barrington Board of Realtor Association, and on the Board of Directors with Women's Council of Realtors, North Shore Chapter, also twice elected as President for Chicago Area Hotel Human Resource Director's Association. Active in her community as Membership Chair for The Grove Heritage Association, Board of Directors on her local Homeowners Association, past President of the "Parent Council" for the local High School, past Girl Scout leader, and is on the organizing committee for all school reunion.

Terry is the 2011- President of the North Shore Chapter of Women's Council of Realtor's. For more information or a schedule of events/programs click here.

It's always exciting for Terry to help clients find the right home in a location that meets their needs. Partner with Terry Anderson to find the perfect home for you and your family.
FOR SENIORS!
Terry Anderson, a Senior Real Estate Specialist, offers an easy transition for seniors looking to move from their current home into senior living communities across the Chicagoland area. With her team of professionals, Terry provides expert knowledge and insight as she assists senior clients through the major financial and lifestyle obstacles involved with relocating or selling the family home. Terry has consistently demonstrated the knowledge and expertise necessary to make her clients' transition intoActive Independent and Assisted Living a pleasurable and seamless experience.
NEIGHBORHOOD MARKET UPDATE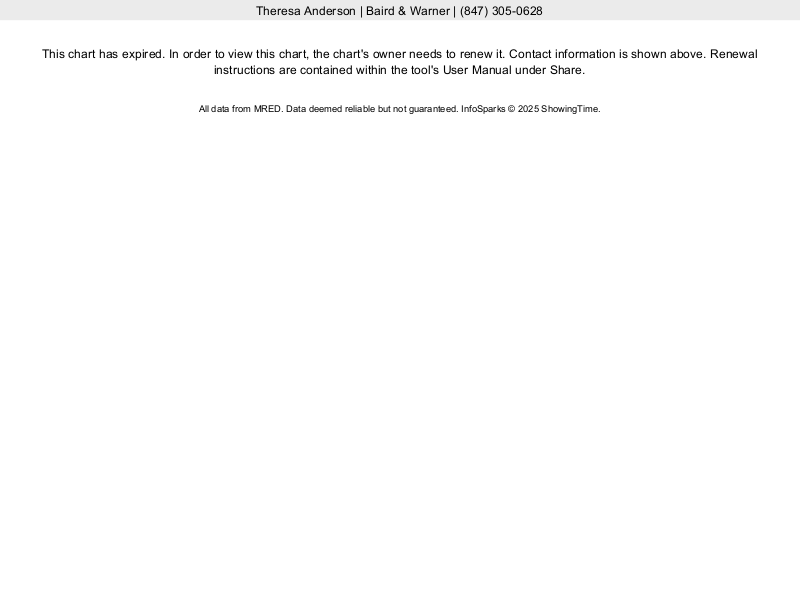 ;
TESTIMONIALS
"I cannot say enough good things about Theresa Anderson and how she handled the sale of our house. The sale was a rather complicated one, and she handled everything extremely well. She is personable, honest, very knowledgeable, knows the area, and has many contacts. I think she works 24 hours a day as she constantly kept us informed of everything going on with our property. I would highly recommend her to anyone buying or selling real estate. It was a privilege to work with her and BHHS KoenigRubloff is very fortunate to have her as part of their team. Terry was a pleasure to work with and I always felt we were in good hands. I would highly recommend Theresa Anderson to anyone. She did an amazing job."
-Carol and Katie P.
"Terry makes it painless, easy and exciting for first time home buyers. Terry has always been from the Glenview area. Her knowledge of Glenview and the surrounding areas was more than impressive! She knew how to answer every question we had. School areas, flood areas, supermarkets, restaurants, neighborhoods, etc...."
-Samuel S.
"Terry was very professional and was able to help us with contacts for things we needed such as painters, cleaning people, appraisers, and moving crews. She was very easy to reach and helpful with the information she provided. I would recommend Terry to friends and family based on her professionalism and her knowledge to help us market and prepare the house for the best presentation possible. Our house sold in 2 days. "
-Sara W.
"Theresa Anderson helped us find the perfect home for our family. Theresa worked diligently and applied her extensive knowledge concerning the market. We will recommend her to friends and family. "
-Katie A.